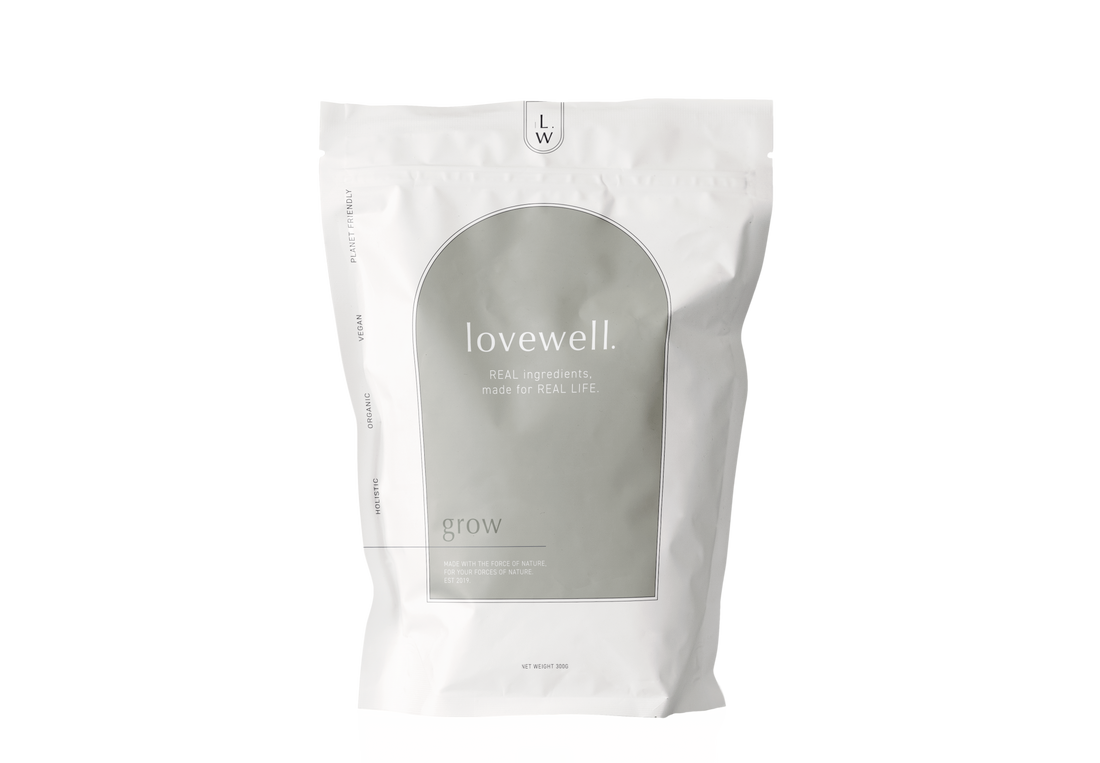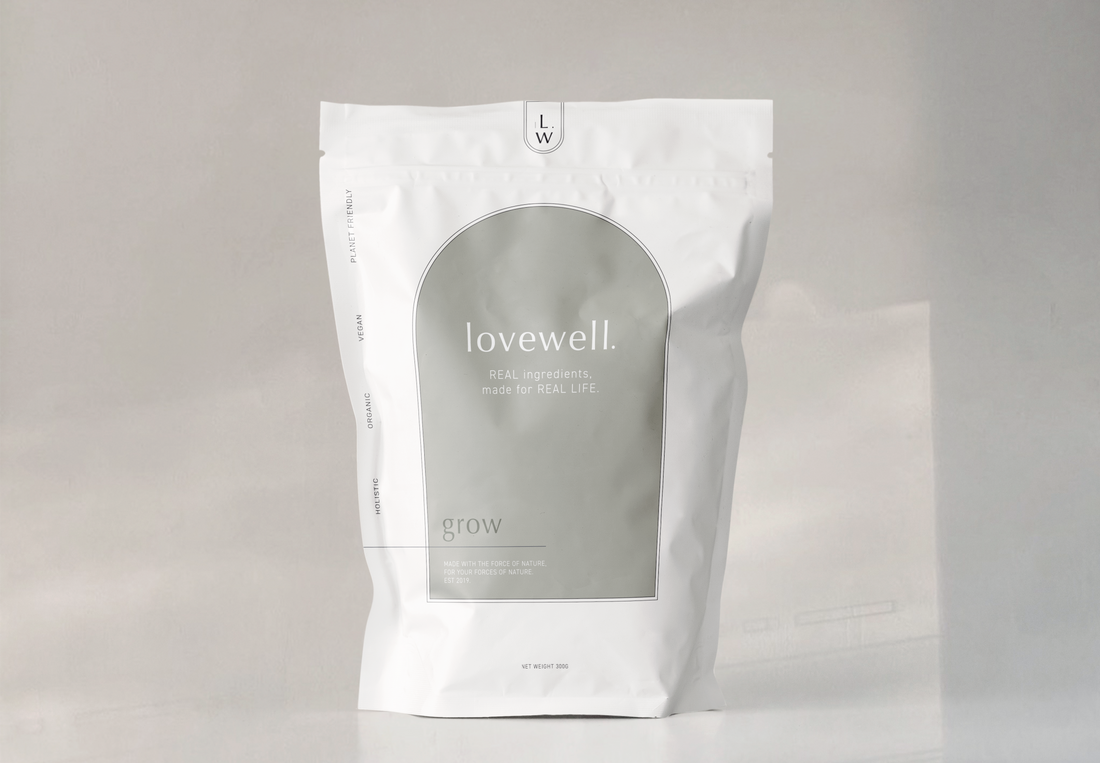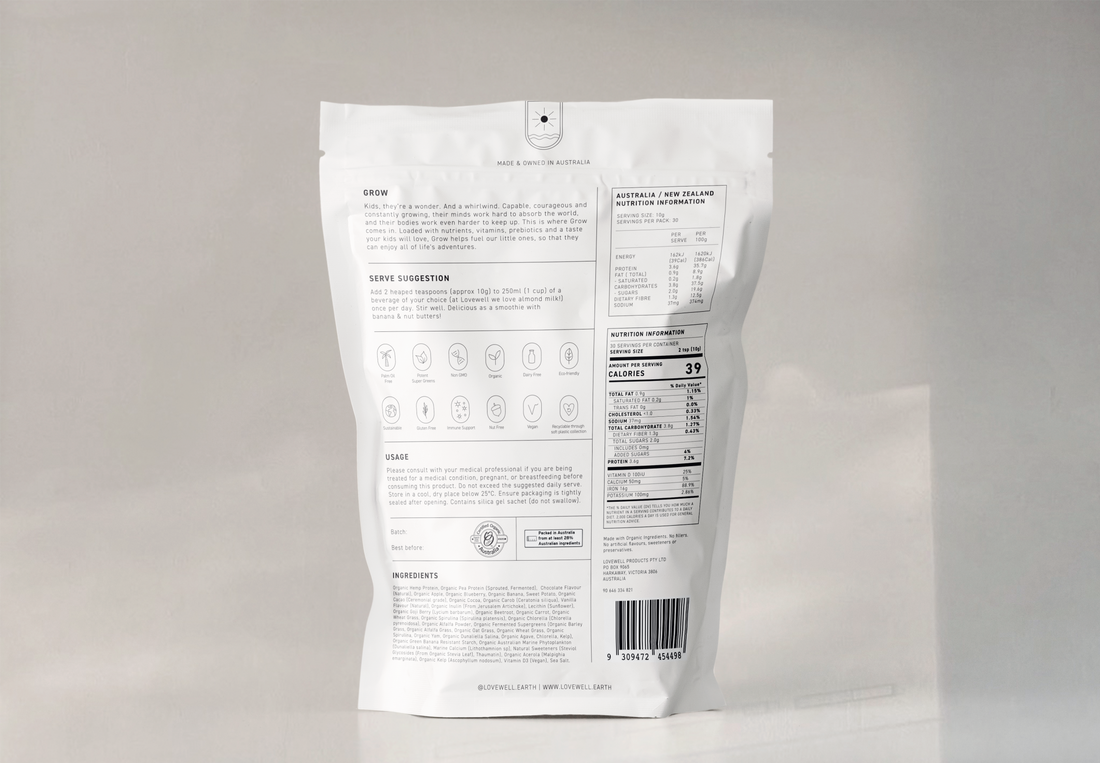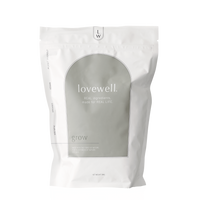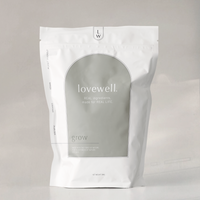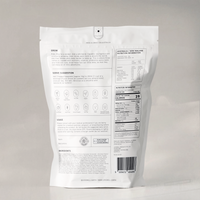 KIDS DAILY SUPERBLEND *containing over 30 superfoods!


Made with the force of nature for your forces of nature; Pre and Probiotics, Iron, Calcium, Omega 3's, Magnesium, Plant Based Protein.


Brain boosting

Growth support

Immune protection

Gut loving

Healthy teeth and bones

Attention and focus boost
Kids, they're a wonder. And a whirlwind. Capable, courageous and constantly growing, their minds work hard to absorb the world, and their bodies work even harder to keep up. This is where Grow comes in. Loaded with nutrients, vitamins, prebiotics and a taste your kids will love. Grow helps fuel our little ones, so that they can enjoy all of life's adventures. 

300g / 30 serves
No fillers. No artificial colours, flavours, sweeteners or preservatives. Vegan friendly. Contains 80% organic ingredients.
SERVE SUGGESTION:
Add 2 heaped teaspoons (approx 10g) to 250ml (1 cup) of a beverage of your choice (at Lovewell we love almond milk!) once per day. Stir well. Delicious as a smoothie with banana and nut butters!


KEY INGREDIENTS 
CACAO
You heard it here first.. chocolate is good for you! Well, when it's in its pure state as cacao it most definitely is! Chocoholics unite!! Aside from being delicious and giving our Lovewell powders the creamiest, yummiest, chocolatey flavour that contributes to their moreish nature, cacao is also a bit of a nutrient powerhouse. NBD. (But actually like the biggest big deal!)

Whilst it's most famously known for its role in the production of chocolate, cacao holds its own solo showing off with a number of health benefits; it's a great source of zinc and iron (absolute human body essentials), it has high levels of antioxidants (we need these to fight free radicals in the body!), it's rich in polyphenols which are responsible for reducing inflammation (anything that reduces inflammation is a god/goddess in our book!), and it's super high in magnesium (something that all women need) 
Due to its amazing benefits for bone, muscle and heart health, PMS, moods and anxiety - it's a natural way of calming your body. Plus, it's high in flavonoids - the healthy nutrients made by plants that are basically top shelf natural antioxidants and anti-inflammatories, to put it simply; the more flavonoids you can incorporate into your diet, the better. And not to get super technical, but it is high in the amino acid, tryptophan which is a precursor to serotonin - the neurotransmitter of happiness! 
All of these benefits and your littles Grow smoothie is going to have that delicious chocolatey taste. It's a win, win! So, there you have it… we give you permission to have dessert for breakfast*

*when it's in the form of our Blossom or Grow smoothie - obvi, we can't give permission to demolish a block of chocolate for breaky.
KELP
Kelp is part of the sea vegetable and algae family, which as we know is full to the brim with nutrients. But! Get ready to have your socks blown off - did you know that Kelp holds the highest levels of natural concentration of calcium available from any foods? 10 times higher than dairy milk! Say whaaaaa?!

Clever lil Kelp is also rich in vitamins, minerals and trace elements AND the list goes on, it's a wonderful source of iodine, which is essential for optimal thyroid function and metabolism. Join the queue to be in the Kelp fan club (we don't want to brag but we're the President of it) because after learning all of its superpowers, everyone wants to be Kelp's friend.
PLANT PROTEIN
We're dedicated to ensuring that our bodies get the highest quality plant based proteins around. We use protein to build and repair tissue, proving to be a very important building block for strong glossy hair (yes please!), healthy glowing skin and strong nails. Protein also helps to create enzymes, hormones and other amazing chemicals within our body, all of which help our bodies run in the way they are supposed to. Lovewell's Blossom + Grow formulation contains protein from organic hemp as well as organic, sprouted, fermented pea. These unique protein sources are rich in amino acids, fibre and minerals, which help to fuel almost every aspect of our hardworking bodies!
We chose Hemp as one of our fundamental ingredients as it is a remarkable source of healthy fats, with an ideal ratio of Omega-6 to Omega-3 fatty acids. Pea protein is leading the way in terms of animal free protein sources for having the highest level of protein of all of the plant based proteins out there! Not only this, but it also promotes lean muscle growth, heart health and weight loss! The combination of theses proteins was the perfect 1:2 combo that we felt met all of our protein needs and would offer us the highest benefits for our bodies.
FERMENTED SUPERGREENS
"You're not leaving the table until you've finished your greens", we've all heard that broken record on repeat and it's an ode to parents everywhere... the daily struggle #amirite. But the reason parents across the ages have been so adamant on being the green police is because everyone knows they're a must for tip-top-health so it was a no brainer to include organic, fermented super greens in our blends. And don't even get us started because we'll geek out on you for the next 4 hours but the fermentation just adds a whole other level of goodness that makes our supergreens blend the best in the biz.
We got our thinking caps on and knew we had to pick the best of the best (and it's not easy when they're all superheroes!) so we landed on wheatgrass, spirulina and chlorella for our organic supergreens because collectively they contain a broad range of amino acids, enzymes, vitamins, minerals, Omega-3s and antioxidants. 
Oh, and the (other other) great thing about these superfood greens and the microalgae included, is that they can bump up your nutritional profile (who doesn't want more nutrition?), increase energy levels (hallelujah!) alkalise the body (alkaline is the antidote to inflammation) and act as potent cleansers (you had us at potent!). Spirulina has also been shown to assist in the growth of healthy bacteria in the gut (we love healthy bacteria!), therefore improving digestion and the absorption of nutrients (soak up that goodness!!). 
So, after our little spill on supergreens all you need to take away is that this blend is perfect for peace of mind; a powerful but palatable mix to ensure that every member of the family is getting a daily dose of greens, which just so happens to be hidden in an enticing chocolate flavour - our (and your!) secret weapon.
SUNFLOWER LECITHIN
We included Sunflower Lecithin in our kids formulation because we know that Lecithin is a fat essential in the cells of our bodies. It's particularly beneficial for improving immune function and supporting healthy digestion. It contains phosphatidylcholine, which helps with healthy brain development in our kiddos and may help to improve memory, making life a lot easier for us parents!


FULL INGREDIENTS LIST
Organic Hemp Protein, Organic Pea Protein (Sprouted, Fermented),  Chocolate Flavour (Natural), Organic Apple, Organic Blueberry, Organic Banana, Sweet Potato, Organic Cacao (Ceremonial grade), Organic Cocoa, Organic Carob (Ceratonia siliqua), Vanilla Flavour (Natural), Organic Inulin (From Jerusalem Artichoke), Lecithin (Sunflower), Organic Goji Berry (Lycium barbarum), Organic Beetroot, Organic Carrot, Organic Wheat Grass, Organic Spirulina (Spirulina platensis), Organic Chlorella (Chlorella pyrenoidosa), Organic Alfalfa Powder, Organic Fermented Supergreens (Organic Barley Grass, Organic Alfalfa Grass, Organic Oat Grass, Organic Wheat Grass, Organic Spirulina, Organic Yam, Organic Dunaliella Salina, Organic Agave, Chlorella, Kelp), Organic Green Banana Resistant Starch, Organic Australian Marine Phytoplankton (Dunaliella salina), Marine Calcium (Lithothamnion sp), Natural Sweeteners (Steviol Glycosides (From Organic Stevia Leaf), Thaumatin), Organic Acerola (Malpighia emarginata), Organic Kelp (Ascophyllum nodosum), Vitamin D3 (Vegan), Sea Salt